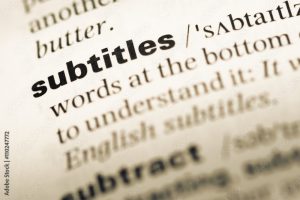 Subtitling is a profession in itself with specific rules. Our experienced subtitlers take into account the reading speed of the viewer by respecting the maximum number of characters per line. No Problem! has the necessary software and translation tools to get the job done.
Video has never been more popular as a mode of communication. And this is where subtitling comes in. After all, sometimes you want to reach a foreign-language audience. Videos are often viewed without sound. No Problem! has experienced professional subtitlers who know how to translate in subtitled form with respect for the reading speed of the viewer. We use the best translation tools and all subtitling files are subjected to a thorough quality check. In short, both your translation and subtitling projects are in safe hands with us. Feel free to contact us for further details or a free quote.
How does it work?
Piece of cake! You send us your video in MP3 or AVI format and we provide you with the subtitles in the requested format so you can merge them with the video in the blink of an eye. Naturally, a ready-made solution is also an option.
We supply subtitles in the language of your video or in a different language.